If the countercultural folks, barefoot walking, free spirit thing, bandana-wearing jam band looks appealing to you, and you might be aware of what actually Bohemian Lifestyle is. The carefree nature of the lifestyle is one of the main things that people admire. Not today, this fashion emerged back in the 70s. Presently, the person who follows a bohemian lifestyle is known to be "Boho Chic." In simpler terms, we can say that bohemians love to live simple, carefree, and artistic lives.
Additionally, bohemians live a life full of music, art, literature, and the practice of freedom over possession. Want to know more about the lifestyle? Let's dig deeper into the amazing facts you need to know about the bohemian lifestyle. 
What Is Bohemian Lifestyle? 
Bohemian, short for boho, is a dressing style inspired by the lifestyle of the 1960s or 1970s. Late in the 19th century, the boho lifestyle flourished, making it a popular choice for people. There are multiple unique elements that a boho utilizes to attain the boho look. Often the boho look is full of layering, colors, and creativity, making it a great choice. Presently, multiple people are curious to know what the bohemian lifestyle is and why people prefer it. 
Characteristics of the Boho Life
If you want to spot bohemians, you can easily look for people with shawls and leather purses hanging around their shoulders. Additionally, they don't value synthetic or metal accessories and thus prefer natural ones. Their fashion sense is unique and attention-grabbing that making them worth watching. 
One of the best things about the bohemian lifestyle is that they don't value money and live according to their norms. Bohemians love to stick with their vegan diet as they pay keen attention to their weight. They protect the animals from being mass-produced by abstaining from consuming innocent farm animal products. 
Bohemian's Way Of Living 
When it comes to the way of living, bohemians love to live a carefree life. They avoid worldly things, but that doesn't mean they aren't well-educated. Bohemians love to spend their time reading and studying philosophical concepts and art. They love to form and sketch art pieces and craft the masterpiece. Aside from art and craft, bohemians spend their time producing excellent music and reading and writing multiple books. However, numerous people feel that this isn't a luxurious lifestyle and thus consider it a sign of misfortune. 
Adopting A Bohemian Lifestyle 
With the increasing popularity of bohemian fashion, more and more people consider the bohemian lifestyle a fashion trend. Due to its versatility and trendiness, the bohemian lifestyle is worth adopting. If you want to opt for the same, here are a few things you need to keep in mind. 

Oversized clothes are one of the important things that bohemians carry. They love to wear kaftans, tunic-style blouses, long floating skirts, balloon sleeves, and baggy cardigans. You can opt for the same things and club them with scarves and belts to make clothes of your size. 

Footwear is an important aspect when it comes to completing your boho look. You must opt for getting your hands on brown or grey colored ankle boots, low cowboy boots, platform heels, and sandals. 
Bohemians pay keen attention to completing their overall look by playing with natural colors. Their wardrobe can range from warm or cold natural hues. Sometimes they even incorporate different varieties of the same shade to get ready. If you're looking for the same, you can easily pair up sky blue, turquoise, steel, and navy blue to get your boho look. 

The next important thing you must opt for to get your boho look is the plethora of accessories. You might be shocked that a wide range of accessories can help you achieve your boho look. For instance, you can choose from V necklines, laces, off-shoulder cuts, bell-bottoms, balloons, or trumpet style sleeves. 

And yes, how can you forget to incorporate cool rattan clutch bags to complete your boho look. Make sure you carry handmade cool rattan clutch bags to get a boho-proof look whenever you decide to go out. You can easily pair it up with any of your outfits to get a stunning cool look. 
Elements Of Bohemian Lifestyle 
There are multiple elements that constitute the bohemian lifestyle. These include loose clothing that is made only from natural fabrics. They love their natural flowing hair without binding them. By playing with the scarf, they easily attain a unique and attention-grabbing overall look. 

Additionally, they pair up tunics, boots, sandals, and loose trousers with colorful scarves worn on the head, neck, and waist. Layering is an important aspect of boho life. They love layering up their clothes to attain the right look. When it comes to choosing the earrings, they opt for large dangle or large hoops clubbed with broad-brimmed hats. 

Some of the accessories that bohemians prefer are numerous bead strands, multiple bangle bracelets clubbing with unusual, handcrafted, and unmatched jewelry. When these elements are clubbed together, the boho look gets completed. 
Meaning Of Boho Chic
As mentioned above, the bohemian lifestyle is referred to as BoHo. BoHo is made from two terms – Bo means Bohemian, and Ho means Homeless. Whereas Chic is a term that is used to define stylish and elegant. When we combine the words, it means Bohemian Style that flourished around the 19th century. 
The Bohemian lifestyle isn't just centered around men and women. Due to its increasing popularity, the bohemian lifestyle has influenced children's fashion trends too. Many fashion freaks and actresses are utilizing the benefits of the boho look. If you love the fashion trend, you can easily make your lifestyle similar to bohemian. 
Are There Any Men's Bohemian Clothing? 
Yes! Bohemian lifestyle includes both men's and women's clothing. Pay careful attention here if you're keen to know what is included in the men's fashion trend to get a boho look. To complete the men's boho look, make sure you get your hands on a T-shirt paired with a loose slack pair of distressed jeans.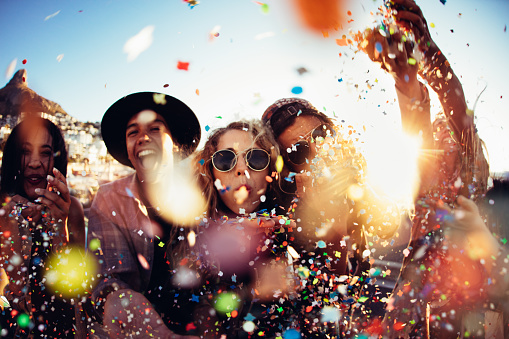 The sweater goes well if you don't want to top the look with a T-shirt. Next, an important thing to the club is, utilizing a scarf along with a vest. As mentioned above, layering plays a vital role in completing the boho look. Therefore, hats and jewelry rings with some bracelets will help you to complete your overall bohemian look.
What Do Bohemians Believe? 
Bohemians love to spread love and affection around the world. In simpler terms, bohemians are promoters of love and not hate or war. They love to form and sketch art pieces and play with their boho group. They spend their time doing art, music, and philosophy, which means they are free from stress and anxiety. We can say that the bohemian lifestyle is disoriented and irregular. They are very energetic and friendly. The reason is their healthy diet and healthy lifestyle. It is believed that more than half of the Bohemian population love to live on a vegan diet which makes them feel energetic. 
Relation of Bohemian & Creativity 
Bohemians have an irregular lifestyle; that is, they love to adventure and travel. They don't stick to the same routine to live their life. Instead, they live a careless and happy life. Generally, boho people are vagabonds, adventurers, and wanderers who are filled with artistry and creativity. One of the best things about boho life is that they don't have any discipline or regularity in life. They are highly talented and filled with creative ideas. That is, they love to live non-traditional lives. 
What Are The Benefits Of Bohemian Lifestyle? 
The Bohemian lifestyle stands for free spirit and careless nature. They keep their lives away from stress, pressure, and pain. They live a life based on their terms and conditions. If you're looking to attain the perfect version of yourself, you need to opt for the bohemian lifestyle. Boho life is a good way to live your life with your goals and dreams. 
Remember, you need to have the courage to live a boho life. This is because boho life comes with its own risk, but the risk is definitely worth it. They don't stick to the same routine or hide their feelings to be their true self. 
Owning a lot of things should not be the way to be happy. This is what the boho lifestyle teaches us. It makes people free from materialistic things and helps them to connect with their inner self. 
Wrap up! 
So this was all about the bohemian lifestyle. We have covered every detail that is related to the bohemian lifestyle as well as bohemian people. Fortunately, the boho look is perfect for many occasions and is therefore becoming the most popular trend. Rather than being just a way of life, the bohemian lifestyle has become a full-fledged and trendy style for many people to opt for.